Thank you Lexington!
It's been a week of uncharted territory and uncertainty, but together we are standing firm! Thank you, Lexington, for your support!
Thank you for your patience as we adjust to operate as a carry-out only establishment. Our people are weary, but your kindness has been overwhelming. We are more efficient every day as we make changes and adjust our business model. Thank you for allowing us that time to grow!
We will continue to serve carry-out at the Zandale and Andover locations until further notice from 11:00 – 8:00 daily. Call ahead to place your order. We look forward to seeing you soon!
Zandale 859-259-2708 Andover 859-264-9396
---
Menu's
Lunch Menu — Dinner Menu — Missy's Pie — Appetizer & Kid's Menu
Please click any of the above links to view our menu's!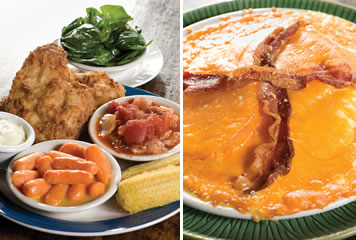 Call ahead and we'll take care of dinner!
Andover Carry-Out (3090 Helmsdale Place) — 859-264-9396
Zandale Carry-Out (151 W. Zandale) — 859-259-2708
The Tates Creek and Harrodsburg Road locations will be closed until further notice.
---
Beginning Saturday, March 28th, Ramsey's will begin taking calls at 10:00am on Saturdays and Sunday. Enjoy a fresh omelette with a side a hash browns for your weekend brunch!
March Pie of the Month