Events
Mardi Gras – Come celebrate Fat Tuesday at any of our four Lexington locations. We have fresh crawfish, red beans and rice, gumbo, king cake and drink specials.  We are the Lexington Cajun Connection!! We fly in over 1200 lbs of live crawfish for this festival.
Mardi Gras    2015
St. Patrick's Day – We serve home cooked corned beef -n-cabbage, blarney veggies, Irish stew, and Irish soda bread all day at each of our 4 locations. Traditional St. Patricks food with our specialty drinks, green beer and Baileys Irish cheesecake makes us O'Ramsey's !

St. Patrick's Day 2015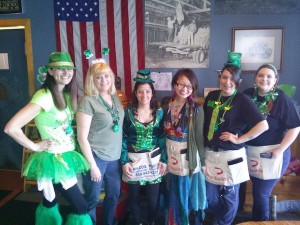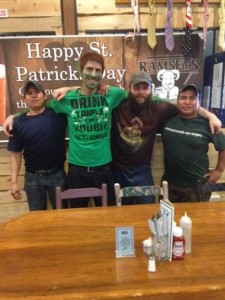 CORN DAZE

 

( and Maters too!)

-Each year around July 4th our locally corn crop starts to "come in " we partner with Gallerien Farms (corn) and Abell Organics (tomatoes) to bring the freshest (picked and delivered daily) product. We offer corn on the cob, fried corn, creamed corn, okra corn and tomatoes, sliced tomatoes and cottage cheese everyday all local and fresh. During this promotion we sell 10 acres of corn and 8 acres of tomatoes. Ramsey's Diners are Kentucky Proud! Kentucky Proud is a program sponsored by the Kentucky Department of Agriculture that encourages local Kentucky farmers to be able to promote their crops.  It is an investment in Kentucky's land, people, and its future.

Fall Veggie Festival- Around Halloween we start our Fall Veggie Festival. Each day we offer Ky Proud acorn squash and rotate daily between fresh broccoli or broccoli casserole, and also rotate daily  between baked sweet potatoes and sweet potato casserole. All veggies are locally grown.  Acorn squash is organic – grown at Abell  Organic Farms.
Thanksgiving – Let Ramsey's do the Thanksgiving Day cooking for you. (Parties of six or more).  The food is heat and eat.  Contact Oren Miller 252-7926
July 4th – Celebrate July 4th with Ramsey's.  Join us downtown while we kick off CORN DAZE.  Our employees will be handing out local, grilled corn.