Ramseys Country Store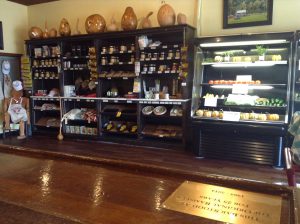 Ramsey's Country store!
Ramsey's Country Store
3090 Helmsdale Pl.
St. 270
Lexington, KY 40509
(859) 351-2247
We opened our doors on September 1st, 2016, right next door to the Andover/Helmsdale Ramsey's Diner at the corner of Man o' War and Todds Rd./Liberty Rd. Attached to Ramsey's, you can browse before and after dining. Once you get to the Country Store, you will find all sorts of odds and ends, from whole Missy's Pies and Ramsey's Heat n' Eat meals like Meatloaf, Shepards Pie, Tomato Pie, Ramsey's Chicken Salad, Salad Dressings, Sauces and much more. We also proudly carry an array of Kentucky Proud products like Bev's Best Brittle, Broadbent's Meats, and Rebecca Ruth's Bourbon Balls. We sell Kentucky proud farm fresh produce, eggs, ham, etc. As well as some Kentucky Products you will love such as Singing Hills Goat Farm Soaps and Lighthouse Candles. Our shelves are full of Kentucky favorites as we are still growing and changing. Please check us out and if there is anything you would like to see in our store, let us know. We will do our best to find it for you.
Don't forget! Like us on Facebook (Ramsey's Country Store), or follow us on Instagram (RCS_Andover) for updates on new products and deals for you.
The store also has unique and hard-to-find cooking utensils, cast-iron cooking utensils, old-fashion candy and sodas.
A true country store with a Kentucky Proud emphasis, it will be seasonal and we have lined up local farmers to supply greenhouse local produce during winter season, If you liked the corn you had for lunch, you can go next door and buy some to take home.